When I decided to start reducing and cleaning out rooms in the house, I realized that a lot of household waste came from the bathroom. I got rid of all the unnecessary stuff and started looking for other options. Here are some alternatives I've found to reduce waste and eliminate disposables:
Toilet Paper
- Try to buy rolls individually wrapped in paper, or larger packages with recyclable plastic wrappers. I've found Walgreen's Ology brand toilet paper to be great! It's made from sugar cane husks and bamboo, TREE FREE! WOO!
Body Wash
- Make your own and put it in a reused spray bottle.
See my recipe here
. Or just use straight castile soap.
Shampoo & Conditioner
- Try the "no-poo" method: wash your scalp with baking soda, then rinse with vinegar for conditioner and shine. With my long hair, I didn't have the patience to get through the transition period where your hair is more oily for a while. I've read lots of testimonials and some people love it, and I believe it's easier with short hair. I want to try it again, but for now I buy shampoo & conditioner in bulk, in reused containers.
Shaving Cream
- Most of the time, I'm lazy and just use the body wash. I've made some shaving cream, and I liked it, because sometimes I just crave a good lather. I'll share the recipe soon.
Razors
- Switch to a reusable old fashioned safety razor. I got mine in perfect condition on Ebay, and it's from 1963! That says a lot for it's durability and quality. If you take out the razor blade and dry it between each use, it should last about 2 months. Which means a pack of 10 blades could last you 5 years!
Deodorant
- I've been making my own with a combination of baking soda, coconut oil, and arrowroot powder in a reused glass container. I haven't gotten the consistency perfect yet, so I'm waiting to share.
Toothpaste
- Try your making your own.
Here's mine
.
Or if you don't like dipping into the jar, you can make a powder to sprinkle onto your toothbrush with baking soda and stevia.
Toothbrush
- I haven't found any amazing alternatives yet, but I have high hopes for the
Bogobrush
and
The Environmental Toothbrush
.
Floss
- Try a reusable gum stimulator or biodegradable
silk floss
.
Hairspray
- I very rarely use it, but when I do I'm going to try strained lemon water with a splash of vodka, in a spray bottle of course. ;)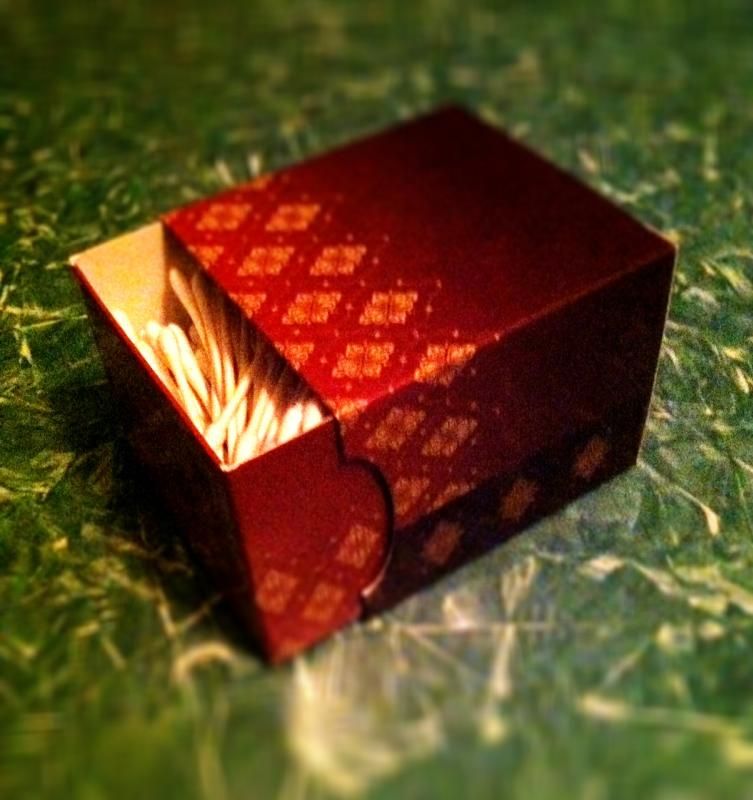 Cotton Swabs
- Avoid using them altogether, but if you can't, try to find some that have paper tubes/sticks and a cardboard container (no plastic.) I found some at Family Dollar in a cute decorative box.
Feminine Products
- Switch to a menstrual cup and/or reusable(washable) pads. The Diva Cup is the most popular, but there are many other brands out there. Don't freak out yet, I won't go into any more detail right now, but I plan to do a separate post about it. I swear you won't go back if you try it.
Make-Up
- Reduce what you use. I only use mascara, brow liner, and Burt's Bees Lip Balm. I want to try making my own version of all of these.
This
would be awesome to
try; maybe I can do a product review.
Face Wash
- Rinse your face, rub gently with honey (avoiding eyes and hair), let sit for 30 seconds if you wish, then rinse. That's it. Honey is anti-bacterial, anti-fungal, moisturizing.
Plastic Band-Aids
- Instead, use gauze and paper surgical tape. You can cut the gauze to the size you need.
Antibiotic
- Avoid drugstore antibiotic ointments. They usually contain Triclosan, which can cause bad bacteria to become stronger. Try using honey, 100% tea tree oil, or thieves oil.
Bathroom Cleaning:
Baking soda for scrubbing
Vinegar for disinfecting
A mixture of both baking soda and vinegar for cleaning the toilet and drains
Microfiber cloths for mirrors.
2 or 3 drops of eucalyptus or peppermint oil in the toilet to keep it fresh
Water Conservation:
Put a brick in your toilet tank to reduce the amount of water used to fill it up
Collect water in a bucket while your shower heats up, then use the water for plants
Install a shower head that puts out less water
Install a shower head with a shut off valve for the in-between times when you step out of the water such as lathering hair, shaving legs, etc.
Don't run the water while you are brushing your teeth
I'll say it again, "If it's yellow, let it mellow."
I hope you have found these tips helpful. Please share any changes you have made!!
love & light,
Claire